Issue 4
"He's making a list. He's checking it twice. He's gonna find out whether it correctly adheres to the strictly defined editorial policy…eh? Excuse me?"
Yes kids, it's that time of year again. The festive beast is at our backs once more, and while bloggers have been feverishly posting Best of Year lists with an ever increasing desperation (Hello Mum!), scandal rocked the music publishing world when The NME was accused of
fixing its Best Of Year Poll
for commercial reasons. Well, here at Sleephouse I can assure you that no such thing occurs. Chance would be a fine thing. Here's my review of 2005. It's untouched by economic considerations of any kind. It's also untouched by anything I've ever played in Sleephouse before, so for a complete best of year list: just play every episode back to back and miss out anything that wasn't released this year.
To listen, simply download the audio file of the show (by clicking the image below) or use the flash player in the sidebar. This show can also be subscribed to as a podcast by copying the address of the RSS link in the sidebar into the podcast receiver of your choice. It's all so simple…


(42MB, 45 mins. MP3 file)
1. Destroyer & Frog Eyes : An Actor's Revenge (Merge)
Throughout 2005 most critics marvelled at the brilliance of the Canadian music scene, placing Arcade Fire and Wolf Parade quite correctly in their best of year lists, but way back in January two of my favourite Canadian bands got together to record an EP's worth of music and no one batted an eyelid.
Over the course of his six or so albums
Destroyer
's Dan
Bejar
has quietly become one of the most pleasingly idiosyncratic stylists in indie music today, while Victoria-based
Frog Eyes
warped minds, and possibly eardrums, in 2003 with their breakthrough record
The Golden River
.
Notorious Lightning And Other Works
sees Frog Eyes backing Bejar's barbed hipster reportage with their trademark scraped guitars and wayward bluster. It's all delightfully messy, and the recordings devilishly unleash songs that were previously, and perhaps unfairly, sealed the antiseptic
MIDI synth
production on 2004's
Your Blues
.
Destroyer releases his new album
Rubies
in the New Year and it's an absolute cracker. Stayed tuned to Sleephouse for more updates on this elusive songwriter's latest opus in the next issue. Or you could go
here
for the best goddam blog entry I've ever read.
2. The National: Mr November (Beggars Banquet)
Providing proof positive that there still remain heroes for the 30-something raincoat-wearing indie rock fan to look up to,
The National
's studied six-string misanthropy cut through 2005 like a knife. Refreshingly unconcerned with trends and fads, the boys from this New York-based outfit simply mounted the stage and did the business.
Their album
Alligator
is a shady beast indeed, lurking on the periphery, dappled with the light and shade of The Tindersticks and Nick Cave, but brimming with the stadium-bating confidence of The Walkmen and even (though I hate to say it) early U2.
'Mr November' was my favourite track of the year bar none, and made me want to drive very fast down a deserted highway in search of a possibly dangerous future. And I don't even own a car.
3. Vashti Bunyan: Here Before(Fat Cat)
The story of
Vashti Bunyan
's return to music making after a 35-year-hiatus has warmed many a heart during 2005. Few would have predicted that a 60-year-old forgotten folkie would have captured the zeitgeist in the way that Vashti has this year. I spent the majority of 2004 tucked up with the startling
Just Another Diamond Day
re-issue, but even I never imagined her return to record would prove so vital.
Perhaps fired by an impressive list of collaborators (Joanna Newsom, Devendra Banhart,
Mice Parade
, Adem and producer
Max Richter
), and buoyed-up by the experience of recording the magnificently playful
Prospect Hummer
EP with The Animal Collective,
Lookaftering
sees Vashti casting aside her much publicized lack of confidence and producing an album every bit as good as its predecessor. 'Here Before' sums up the triumphant formula of the album perfectly: Vashti's haunting voice and plucked folk stylings delicately colliding with a modern production so deftly handled it already sounds classic.
4. Lau Nau: Kuula (Locust)
One of the strangest tributaries of the flood of the weird folk music that engulfed 2005 was surely to be found in Finland. Prior to 2005 my only other previous experience of Finnish music was restricted to
22-Pistepirkko
and
Jimi Tenor
, but this year it's been a pleasure to dream my way through nearly a dozen psych-folk albums by bands whose consonant and vowel combinations correctly memorised would catapult me to unrivalled supremacy in the Scrabble world were proper nouns from foreign languages acceptable.
'Kuula' comes from the album
Kuutarha
(
Locust
), and is the solo work of
Laura Naukkarinen
, a key mover in the Finnish scene and member of a good number of its bands including Kiila, Kemialliset Ystävät and Päivänsäde.
Everything you will ever need to know about Finland's politely invading psych-folk warriors is covered in
this great Pitchfork article
. And cheap european flights to Finland are available
here
. Book now to avoid any Folk backlash-related disappointment.
5. Arthur Russell: This Is How We Walk On The Moon (Phillips)
While not originally released this year, this decade or even this century,
Arthur Russell
's back catalogue has proved to be an endearing personal soundtrack for 2005. I discovered him in January when the fantastic album
World Of Echo
was re-issued, and since becoming familiar with his ethereal magic, I've noticed his name everywhere: bubbling under people's influences and hidden away in discerning record collections, a Nick Drake-like figure on the brink of a huge posthumous breakthrough.
Russell was an early dance music producer and innovator in the late '70s and '80s, but it's his gentler delay-drenched solo work that's really startling. Working solely with cello, drum machine and the odd bit of sparse orchestration Arthur Russell's albums (
World Of Echo
,
Another Thought
and
Calling Out of Context
) are truly lost shards of wonder. That he escaped a mention in
LCD Soundsystem's 'Losing My Edge'
is perhaps even more amazing.
6. Jan Jelinek: Im Diskodickicht (Scape)
Truly groundbreaking electronic music has been a bit thin on the ground this year. But Berliner
Jan Jelinek
's album is one of the few in this genre which truly stood out. Part of the problem seems to be that pop and RnB producers have taken over from the left of field artists, and now innovate directly onto MTV and straight into the mainstream.
This was not the case for Jelinek however, who copped a few tricks from his country's
krautrock
ing history books and produced
Kosmischer Pitch
(
Scape Records
), an album of steadily shifting, mesmerising loops that wrap themselves tightly around your brain and beg for your undivided attention. This is definitely not just background music.
7. P:ano: Covered Wagons (Mint Records)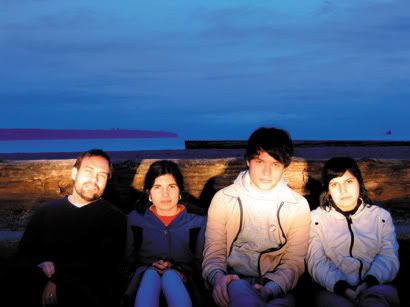 Brian Wilson may have resurrected a live facsimile of his
Smile
album and toured it around the world, but anyone searching for the true spirit of classic-era Beach Boys need have looked no further than 'Covered Wagons' by
P:ano
. Bursting out everywhere with beatific brass and mellifluous harmony 'Covered Wagons' is just one of the reasons why Vancouver's
P:ano
should not remain a local secret for too much longer. They've recently released their second album in a year,
Ghost Pirates Without Heads
, but this song comes from the spring-released
Brigadoon
—neither of which you'll wanna be without.
8. M Ward: Hi-fi (Merge)
It feels just plain wrong to write about
M Ward's
Transistor Radio
as being one of the best albums of 2005. Truly a man out of time, M Ward's output proves the argument that thousands of years from now no one will be able to tell who came first: The Beatles or Beethoven.
A songwriter so much in the classic mould, that simply playing one of his mp3s turns your computer into a wood-panelled valve radio, Ward's records consistently come up with the goods for anyone patient enough to give him a proper listen.
Transistor Radio
begins with his Fahey-like instrumental reworking of The Beach Boys 'You Still Believe In Me' and gently fades out with his take on Bach's 'Well Tempered Clavier'. In between Ward's songwriting reassures your fragile soul like an old friend even while his voice raises the hairs on the back of your neck like a cold draught in the night.
Now, if you haven't just swallowed back a little bit of up-sick after the last couple of paragraphs, maybe you'll wanna go and check out M Ward's performances for KRCW
here
and
here
. You can, of course, buy all the albums from very fine and upstanding people at
Merge Records
.
9. Casiotone For The Painfully Alone: Cold White Christmas (Tomlab)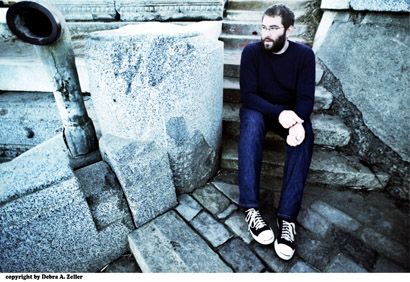 This last song is a Christmas gift from
Casiotone For The Painfully Alone
and
Tomlab Records
to you, the listening public. This seasonal nugget is available for download from the Myspace.com profiles of both
Casiotone
and
Tomlab Records
until December 26th. So I suggest you get yourself over there quick.
I've been a fan of Casiotone's whinsome organ-driven indie soap operas for a good while now and so when I discovered this song I took the opportunity to shoot Owen Ashworth an email to ask him about 'Cold White Christmas' and his forthcoming album.
Sleephouse: Where does the song 'Cold White Christmas' come from? When did you record it? Is it going to be on the new record?Owen Ashworth:
I recorded 'Cold White Christmas' in early August. The tracking and mixing was done at Pan American Recording Studio in San Francisco. Jason Quever from
The Papercuts
engineered the session and played the drums and Alex deLanda, also a Papercut, played the bass. I played the pianos and organs and sang it. 'Cold White Christmas' is one of three songs I recorded with Jason for the new album. The rest of the album was recorded with Jherek Bischoff in Seattle, except for the last song, which I recorded myself.
When is the new record due? Have you finished recording it? Have you settled on a title yet?
The new album is called
Etiquette
and it will be released on March 7, 2006. I finished it in September.
I've noticed that you seem to be using more instruments and orchestration on the most recent recordings, are you stepping away from the solely keyboard-driven stuff? Do you feel that you've taken that sound as far as you can? And was this change motivated by the re-recordings you did for the Tomlab Alphabet series?
When I started writing and recording for
Twinkle Echo
, I knew it was the last Casio album I was going to make. I finished my trilogy and I was ready to try different things. Jherek Bischoff played contrabass on one song on
Twinkle Echo
, and he would have played on more if logistics had worked out.
That "Alphabet" single was the next thing we recorded together, but at that point we were playing shows together as often as possible and I was writing new songs with him in mind. I was writing on a piano and a Korg EM-1 sequencer/drum machine that I named Baby Cousin. I was living in Portland last winter and every few weeks I would drive up to Seattle with Baby Cousin to work on arrangements with Jherek. There are two songs on
Etiquette
that use Casios, and in both cases it was by Jherek's insistance. I wanted to use string arrangements.
What are you planning for Christmas?
I'm going to listen to my Charlie Brown Christmas CD and probably drink some egg nog.
Best record of the year?
I didn't buy too many new records this year, but I liked that Antony and the Johnsons album a lot.
What will you remember most about 2005?
2005 was kind of a big year for lots of personal reasons that don't belong in this interview. I can tell you that I did a lot of growing up and I made a really great record.
What does the next year hold for you? I know you're planning a tour...
I'm moving to Chicago in early January, and I'll be on tour for most of the Spring, and probably again in the Fall. I will probably get really famous and have to stop being so nice. Just kidding.
----------
That's all for this year folks. I'm sat in a little farmhouse in Norway as I type this entry and I long to rush outside and frollick in the crisp white snow. So without further ado, I'll wish you a happy and relaxing festive season and I'll see you back here for Sleephouse 5 in January. Take care.