Issue 7
There's more than a whiff of retro-ism about Issue 7 of Sleephouse Radio. But am I apologetic? Of course not—you have to know your history to be able to separate the wheat from the chaff. And with so many musical thieves out there these days, just waiting for the appropriate opportunity to pass off some old tat as their own work of original genius, you can thank your lucky stars that Sleephouse is here to disseminate the good from the bad. What follows is the good stuff, artists that take from the past but add something new to it in some small way. There's a genuine lost gem of an oldie too.
To listen, simply download the audio file of the show (by clicking the image below) or use the flash player in the sidebar. This show can also be subscribed to as a podcast by copying the address of the RSS link in the sidebar into the podcast receiver of your choice. It's all so simple…


(40MB, 43 mins. MP3 file)
1. Jens Lekman: A Sweet Summer's Night on Hammer Hill (Secretly Canadian)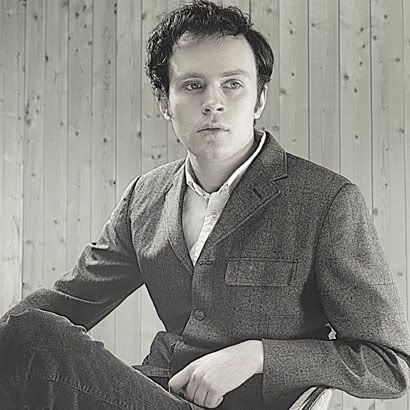 Nothing adds to the career of a pop singer like a bit of "will he?/won't he?" speculation. Devotees of this politely spoken Swede were dismayed earlier this year when
reports emerged of his intention to quit the music business
for an extended period of soul searching and life adjustment.
Thankfully, whether this was actually a fully-formed idea in the mind of Lekman or just a bit of unsavoury media insinuation, Jens now seems to have shelved the plan and is throwing himself into his musical career wholeheartedly. He's got
a spritely US tour in the offing
and will hopefully soon follow up his intermittently magnificent album,
When I Said I Wanted to be Your Dog
, with something truly befitting of his genius. This track comes from the rarities and b-sides collection
Oh You're So Silent Jens
and it shows that the young man knows a thing or two about how to make a track sound classic.
2. Sunset Rubdown: A Day in the Graveyard II (Global Symphonic)
Just what a "Sunset Rubdown" involves is anybody's guess. But as long as it's soundtracked by
this talented Canadian
(Spencer Krug, Top Right) and includes a "happy ending" then count me in.
Long before
Wolf Parade
took the maple leaf to parts unknown, Spencer Krug's bedroom project
Sunset Rubdown
has allowed his musical creativity free reign to develop unchecked. To be honest, this made for music that was pretty
hit and miss
: plenty of towering highs but plenty of indulgent lows too. But let's not be too hard on the boy, after all he was a member of the first incarnation of
Frog Eyes
at the same time and one's creativity can only stretch so far, right?
Sunset Rubdown
is a different proposition these days, however. Now decked out with a full complement of permanent band members, and preparing to release the album
Shut Up I am Dreaming
, it seems they have sharpened their focus dramatically. The songs still meander and sprawl in an alarming number of different directions, but they now satisfy the listener with a distinct sense of purpose. As is evidenced from this song, taken from an album
teaser of an EP
released on
Global Symphonic
earlier this year, what was once a sideline could end up overshadowing Spencer's already successful day job.
3. Lilys: With Candy (Manifesto)
When
The Shins
shot to fame and
Natalie Portman uttered those immortal words in the film

Garden State

: "[They'll] change your life."
The Lilys
frontman
Kurt Heasley
must have a cursed a blue streak a mile long.
The Lilys have toiled in indie mines of obscurity for years now
, forever on the lip of mainstream acceptance but always having to settle for the frustrating moniker of cult band.
Well, with their new album,
Everything Wrong Is Imaginary
, just dropped, hope may come from the unlikeliest of sources, that of a potty-mouthed ingénue helming a two-piece shoegazing band who
write songs with titles like 'You Fuck Like Your Dad'
. That's right Annie Hardy of Giant Drag, NME's latest flavour of the month, is a big fan of Lilys and can be found on
her website
spouting the following eulogy:

"What am I so excited about that I feel the need to exclaim it?! […]i will tell you what i am excited about: the new Lilys record! […] why are the lilys the greatest? i suppose the bigger question is why don't more people know and love them? is everyone way dumb or has there been some foul play? i suspect a bit of each. tell your mothers all you want for christmas is the entire lilys catalog. oh, and giant drag's hearts and unicorns...sorry, they make me say that."
Well, the girl does make a point now, doesn't she? Why haven't you bought this record already? If you haven't, and you own a copy of either
Oh Inverted World
or
Chutes Too Narrow
, at least do the decent thing and support the band that made all this possible. That band, my friend, is Lilys.

4. Euros Childs: Costa Rita (Wichita)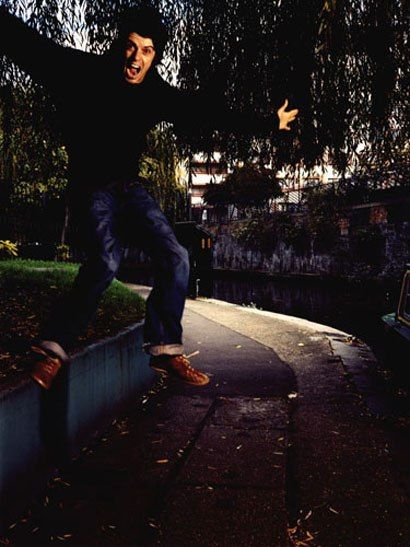 The Welsh have always have always exhibited a very particular grasp on reality.
And before you go burning down my holiday cottage
, let me say that I'm almost always
a fan of any music
that appears from this valley-riven and well-mountained territory
. Converted to the power of
Gorky's Zygotic Mynci
during a particularly extreme doubleheader of gig headlined by a
pre-crap Spiritualised
at the Sheffield Octagon in 1997, I've been a devotee of their mushroom-headed psych pop for a good few years now.
I've always seen
Euros Childs
as the driving force behind Gorky's and that (perhaps unfair) assessment is born out by the evidence of his first solo album
Chops
. Mellifluous harmonies ride on the backs of donkeys while Bossa Nova beats help sell ice creams on a British sea front.
Hardened cynics
may find Childs' world a tad too sugary sweet, but anyone who's inner child has survived into today's brutal adulthood will be delighted by an album that flouts reality's usual conventions with such glee. No album will turn this spring into summer so quickly as
Euros Childs
'
Chops
. Play it loud, open your windows and coax nature into action.
5. El Perro Del Mar: God Knows (You Gotta Give To Get) (Memphis Industries)
Phil Spector's ludicrously vain afro
looms large over many a new hope for music this year. Up and coming acts like
The Pipettes
and
The Long Blondes
both owe a certain amount of their studied charm to Spector's patented
Wall of Sound
/
Girl Group
template.
But despite the undoubted talent of the aforementioned artists, no one nails the ethereal calm and otherworldly appeal of the old nutter's music like
El Perro Del Mar
and her song 'God Knows'.
El Perro Del Mar
is the gorgeous work of sultry Swede Sarah, who gained a fair amount of deserved attention when she appeared on
a split release with fellow countryman Jens Lekman
last year. She's recently signed to
Memphis Industries
and is preparing to release an album from which 'God Knows' shimmies forth. A song so classic the Twelve Inch probably smells of thirty-year-old dust and charity shops, and were there any justice in the world this song would be number one with a bullet. This song aims for great things and hits the target dead centre. If only the beleaguered Mr Spector had done the same. Don't miss it! Shall I go on? No…you got it, right? Here's
a hint
.

6. Mia Doi Todd: My Room is White [Flying Lotus Remix] (Plug Research)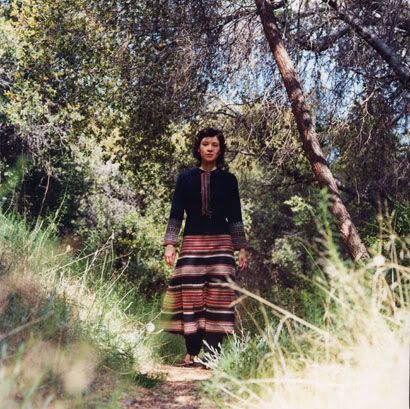 If there's one genre that Sleephouse has ignored in the past, it's hip hop. Call me a hopeless indie white boy if you will (hey, I deserve it), but I just don't feel qualified to direct you to the next big smoking hip hop joint, blood. (Though:
Gnarls Barkley
--now I like the cut of that young fellas jib, what what?)
But I do know a crispy fried beat when I hear one and if the grapevine is anything to go by then
Flying Lotus
is set to be the next big producer in the leftfield hip hop world. He might sound like your favourite Chinese restaurant, but the way Flying Lotus chops and dices
Mia Doi Todd
's 'My Room Is White' would make this song dish of the day in many a fine establishment.
To be fair
Mia Doi Todd
might have something to do with it as well. Her smoky tones have always eluded me in the past, but the soon to be released remix album,
La Ninja: Amor and Other Dreams of Manzanita
, from which this song is taken, might just have hooked me. I look forward to investigating these artists further, and should you wish to you can do the same. Set browsers to stun and teleport to Myspace station
A
or
B
.
7. Add N to (X): King Wasp (Family Recordings)
Jarvis Cocker
has a funny name, a funny dress sense and, on the evidence of the compilation album
The Trip
(Family Recordings), a bloody funny taste in music too. But like his unlikely moniker and his geek chic threads the music presented on this album just plain works.
Put together in collaboration with his fellow Pulp-ster
Steve Mackey
,
The Trip
is fantastic journey through the baroque and freakish record collection of these
two northern gentlemen
.
Lee Hazelwood
rubs shoulders with
the Birthday Party
, while
The Fall
barge past 60s crooner
Gene Pitney
spilling his drink all over OMD and The Human League. Yup, it's hardly your average post party comedown mix. In fact, were you to slip this on in the company of the average popped-out pillhead you'd have to scrap him off the ceiling before you'd got round to the second CD.
A song with particular paranoia-producing prowess is this crawling king snake of a song from late-90s boffins
Add N to (X)
. Originally released in 1997, with a 3D cover illustration no less, this is a true lost wonder that buzzes white hot noise all over Bo Diddley's gently shuffling '50s slacks. Absolute crookedly, crackling genius.
8. Screaming Lord Sutch: Flashing Lights (Family Recordings)
Screaming Lord Sutch
might be better known as the perennial comedy vote in British General Elections of the '80s: His
Monster Raving Loony Party
was the only welcome political raspberry any child growing up in
Thatcher's Britain
could look forward to on the Election Day 5 o'clock News. I will always thank Lord Sutch for his humour and steadfast commitment in the face of certain defeat and many a lost deposit. He brightened my early life. Little did I know that he'd also been a pop star in waiting in the early '70s, one that unfortunately failed to launch into the famous firmament.
In this second song from
The Trip
compilation Cocker and Mackey have dug up a great cod-psych work out that, despite the critical panning that all Sutch's albums received, 'Flashing Lights' is actually a hell of a lot of fun. Consider, too, that it features some supremely muscular session work from the recently Led-Zepped Jimmy Page (who also produced
the album
) and John Bonham and an unemployed Noel Reading (fresh from his dismissal from the Jimi Hendrix Experience). Even more interesting is the fact that it appears to be the place where the Stones Roses originally plundered their fool's gold. The cheeky Manc monkeys.
9. Liars: The Other Side of Mt. Heart Attack (Mute)
Emerging from the smoking rubble of the
NYC new wave explosion
at the turn of the millennium,
Angus Andrew and his fellow Liars
found themselves missing half their band and a captivating musical direction.
Settling down as a three piece, and trying to live up to the frighteningly gargantuan hype that surrounded their debut
They Threw Us All in a Trench…
Angus and the boys decided musical salvation lurked in a sound roughly similar to the kiss of an angle-grinder on sheet metal and a hastily thought-out predilection for the occult. Unfortunately critics disagreed with this belief, and their second album
They Were Wrong, So We Drowned
was
widely panned as an unlistenable folly
.
They returned this year with a counterpunch of sorts, an album that's most definitely listenable, and might just be their best work to date. It's called
Drum's Not Dead
and 'The Other Side of Mount Heart Attack' is the next single to be taken from it. It'll be released on April 11th on
Mute Records
.
That's all for this issue, but don't forget to check out the Sleephouse Notes Blog for updates between times, and don't forget that you can now add Sleephouse Radio to your livejournal friends page. What's next?! Myspace? Why, yes.