Issue 5
After a relaxing Christmas hiatus Sleephouse Radio is back. I apologise for the delay but January is a slow old month in the world of music and rather than waste your time with a sub-standard show I thought a prolonged break would allow me to cobble together something a little more warmingly wholesome for this, Sleephouse's first show of 2006.
So a belated Happy New Year to everyone! Try not to worry about wonky religious theocracies and their nuclear ambitions, corporate robber barons exporting democracy at the barrel of a gun or the looming threat of a Bird Flu pandemic. Instead, let me crack the permafrost of the
Season of Un-Joy
with these delightful indie ice picks (plus written interview with Karl Blau!). Just you be careful though, iPods may look all cool, slick and white but they're a bugger to find if you drop them in the snow.
To listen, simply download the audio file of the show (by clicking the image below) or use the flash player in the sidebar. This show can also be subscribed to as a podcast by copying the address of the RSS link in the sidebar into the podcast receiver of your choice. It's all so simple…


(40MB, 42 mins. MP3 file)
1. Ivor Cutler Trio: Good Morning! How Are You? Shut Up! (Rev-Ola)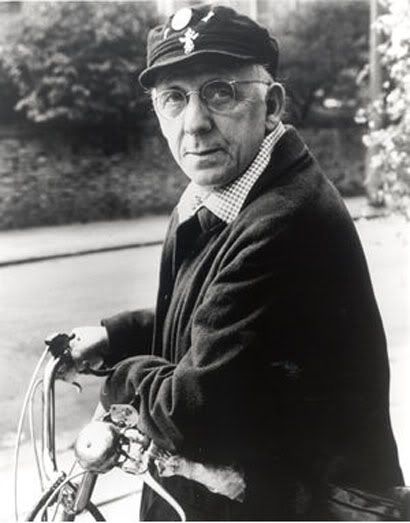 Ivor Cutler
performed his last show in Feburary 2004 at London's Queen Elizabeth Hall at the grand old age of 81. Behind him stretched a life as magical and unconventional as any you'd care to mention.
Cutler
, the perennial outsider, was born to Jewish immigrant parents in Scotland in 1923. He went on to record
numerous albums
, a number of John Peel Sessions, be a teacher in an
experimental school
and also star as
Buster Bloodvessel
in the Beatles' ill-fated
Magical Mystery Tour
.
'Good Morning! How Are You? Shut Up!' is a contrary old gem from the
George Martin
produced 1967 album
Ludo
, and it provides ample insight into why Ivor found much success in his parallel career as a
children's book author
. Cutler's music is always playful, some might even dismiss him as a comedy act, but something about this curmudgeonly Glaswegian shines an enlightening seriousness through even his most unhinged and naive works. It's as if the true nature of reality can only be glimpsed through a child's kaleidoscope.
A DVD documentary of Ivor Cutler's life was released last year. It's called
Looking For Truth With A Pin
and it's great.
2. Clap Your Hands Say Yeah: Over And Over Again [Lost & Found] (Wichita)
There's definitely something to be said about a band that gets off its arse and does it themselves. The year may barely have started but, in the UK at least, it looks as if 2006 belongs to this
industrious bunch of New Yorkers
. While the music industry bemoans the proliferation of file trading,
Clap Your Hands Say Yeah
have proved that there's nothing detrimental about a few well-placed free downloads being passed around cyberspace ad infinitum. In fact, they seem to have built a career on it.
No doubt you've all heard this song by now, but with a European tour in the offing and most UK based media
screaming themselves hoarse
over the band, I felt the time was right to revel in this song's brilliance once more. Good songs, after all, are good songs. No amount of media saturation can change that. But consider yourselves warned nonetheless.
Clap Your Hands Say Yeah's album gets a Europe wide release on
Wichita
this month with a tour to follow, details of which can be found
here
.
3. Destroyer: European Oils (Merge)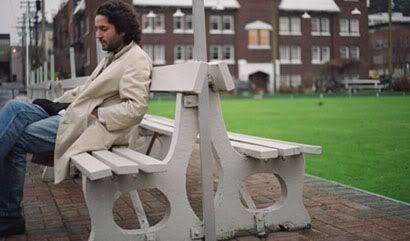 If you've never heard of either
Destroyer
or its mastermind
Dan Bejar
, then you really are a lucky individual. For what awaits you, my dear friend, once your conversion has taken place, is one of most sumptuous and consuming back catalogues in music today. I almost envy the fresh initiate. So much wonder awaits you. Just the new album,
Rubies
(Released on February 21) alone, is so Dylanesque in scope you may need to book a two-week holiday in which to soak it all up.
Bejar
shoots barbed arrows of referenced insight from deep within a '70s glam/MOR rock tradition and over the years he's created a world that's uniquely his own. A world populated by reoccurring characters, situations and signifiers. There's so much going on here,
Rubies
is an album that would possibly benefit from
York Notes
. One rather hopes that this time round it will be the album that breaks the man from Vancouver into
a wider acceptance
.
Rubies
will certainly be found at the top of my best of 2006 list even though the year is barely a month old.
There's really no choosing between tracks on an album that I'm so in love with but 'European Oils' stands out from the pack by virtue of the fact that it contains my favourite lyrics from the album, lyrics I faithfully reproduce below:
"When I'm at war I insist on a slaughter and getting it on with the hangman's daughter.
She needs release. She needs to feel at peace with her father, the fucking maniac..."
4. Islands: Don't Call Me Whitney, Bobby (Rough Trade)
Though many teenage lives fell apart in a frenzy of torn posters and saline, when the Unicorns split in 2004 the smart money always maintained that various members would return to fulfil the promise dangled by the Unicorn's exceedingly twisted pop.
Islands
'
Return To The Sea
satisfies that prophecy and then some.
Of course,
the Unicorns
remain the central reference point for this music. The vocals still squiggle with mischief and ghosts and skeletons still jump out from behind parping synths. But something new has been added and something has changed. Don't worry people—it's all good.
For a start, Nick Diamonds appears to have matured as a songwriter. But not too much—he's just got better. The production too is cleaner, less muddied. All this makes for better music. What's new is the rhythms. Drummer Jaime Tambeur and Nick have stated that
Islands
was started out of their love for African music and this love reveals itself in the way this record jumps and skips on its merry way. A playful incessant beat drives this record on, a holiday calypso vibe that places a cocktail into your hand every time you play the record.
'Don't Call Me Whitney, Bobby' should keep you in coconut oil until you can get your hands on the album which will be released on Rough Trade at the end of January.
[Edit] Though all news reports point to a Rough Trade January release for this album, no evidence can be gained from Rough Trade as to whether this is the case. One suspects that the release has been delayed (
perhaps until March
). So just sit on your keisters and hang tight for more news.

5. Karl Blau: Into The Nada [Live] (K Records + Kelp! Monthly)
The sleepy Pacific Northwest town of
Anacortes, WA,
has become an unlikely hub of underground American indie music in recent years, and proved that isolation and a little DIY ethic can be a powerful creative force. Ostensibly a port town set amid stunning natural beauty, its music draws inspiration from nature as much as it does human relationships. Anacortes plays host to number of wonderful artists, the most famous being
Phil Elverum
of
Mount Eerie
/
Microphones
fame, but it's
Karl Blau
that we focus on today and whose mystical music will give you some idea of this town's signature sound. It's gentle but awe-inspiring like the landscape which nurtures it.
Karl Blau has played with a number of musicians over the years, from the aforementioned Phil Elverum to Seattle's Laura Veirs, but this month sees the release of his latest solo work,
Beneath Waves
on K Records. I took the opportunity to send Karl an email and ask him a few questions about the album, the local Anacortes scene and the fantastic mailorder record club,
Kelp! Monthly
, which he runs.
Sleephouse: Could I ask you directly about the song "Into the Nada"? Is there a story behind it at all? Is there anything you'd like to tell us about it?
Karl Blau:
There is a story behind this song: the music was crafted directly from this African pop song that eight or so years ago a friend gave to me on a mix tape unlabeled. It is a total rip-off of this song. I need to give credit to the artist/s, but I'm still searching. Maybe one of your listeners can decipher the roots?
In fact, the first time I recorded this song, I transcribed the recording directly onto the recording device for the first track and then just tracked over it and eventually removed the original. The lyrics came to me quickly; I wanted to match the African language.
Specifically, it's talking of singing: "When it's with nothing that you have so much to give / And it's in nowhere that you've found your place to live" etc. "Vocalise into the nada," I think of as singing out into nothing and the satisfaction is implied there. This song is a celebration. Being alive is the gift; singing is saying "I believe this is happening."
You live in Anacortes and there's a great independent music scene there. What does the place mean to you? Would your music sound the same if you didn't live there?
I am very excited to be more and more part of the community of Anacortes. I find myself touring or preparing for this most of the year, so when I can be at home and walk through the town with my family, I feel great pride. I am smiling with people, some of which I've known for a decade, and I go to shows and see kids and parents and elders—this is quite fulfilling.
I may have a somewhat unique perspective on music, I try to not try for anything when I am writing or recording so I am heavily influenced by surroundings and the wind is sure to get into the microphone.
Living in town is nice. I think it's awesome that there is a perspective that Anacortes has this amazing scene of music, but here in Anacortes, there is the baker, the photographer, the accupuncturist, the musician, it's real low key.
Tell us a bit about recording the album. You recorded it at the Department of Safety (Anacortes's amazing gig venue and creative space). You must have had a great time recording it there.
Recording
Beneath Waves
was magical. I practised the songs with two groups at the
Department of Safety
. One was a ROCK band—
Laura Veirs
, Dave Matthies on guitar, Nate Ashley playing bass and lead guitar—and the other was an ORCHESTRA—Alex Mahan on bass, Steve Moore performed the Wurlitzer and trombone, Johanna Kunin played keyboards, Dave Matthies played guitar with Eddy Blau, and Alex Blau played keyboard and tambourine. We recorded it there live—except the vocals—and then to Vibe Control Studio for mixing. Dave Matthies (of
the Gift Machine
) is a wizard at sound production, and it's heavy thanks to him that this record was made.
What can you tell us about the album? Do you see it as a departure or a progression from your previous recordings? What can people expect?
Beneath Waves
is a rerecording of the four-track album
Dark, Magic Sea
more or less. These songs were written while I was working at my family's oyster plant. My father died, my baby was born, and it encompasses a period under the influence of heavy emotions.
Beneath Waves
is taking these very intimate songs and giving the energy to a group of trusted artists to add their influence. It was risky, but I need to feel like something can come out of it that is powerful.
Tell us a bit about your Kelp! Monthly mailorder club and what prompted you to start up this enterprise?
Kelp! is music and packaging produced by me so that people may subscribe to a certain number of releases and get these mysterious packages regularly. Kelp! started out because I wanted to record everything and have a venue to make available my past recordings. Oops, Ciel, my daughter, is flicking the lights on and off. I guess I should go.
Anyway, you can check out
www.kelpmonthly.com
for lots more info and songs.

What does the rest of the year hold for Karl Blau?
Touring like crazy. I am really looking forward to we, the people, rising up against our oppressors. I'm really serious. ●
The song I play in the show is a live version of "Into The Nada" which appeared on a Kelp! Monthly release (You can listen and then buy it
here
). Karl has rerecorded the song for inclusion on his new album. You can download the album version
here
as a sampler for the album
Beneath Waves
. Karl is playing small number of
North American West Coast shows
to promote the record, and the tour culminates in a
Beneath Waves
release party at the
Department of Safety on Saturday, February 11
.
6. Love Is All: Make Out Fall Out Make Up (What's Your Rupture?)
Time was when
a good review
was a good review. These days it's a bloody curse. One wonders how quickly members of
Love Is All
will tire of Pitchfork's tag
"The First Great Band of 2006"
. Regardless they shouldn't worry—the
blogs
are all over
their record
Nine Times That Same Song
. And with good reason. My blogging barometer is reading "hot" with only the odd twinge of the needle towards "changeable".
Calvin Johnson
, leaning down from the mountain, described Love Is All as "a spiraling cacophony that drives one to the dance floor to pogo like a maniac." And the old soothsayer's not wrong. This Swedish five-piece slap drums, keyboard, guitar and even saxophone together and come up with a enthusiastic brew of indie pop that have you shaking your denim clad tush in even the greasiest of indie clubs. Just be careful not to get your studded belt caught in the hair of that weird cider-drinking goth guy—he's called Ian and he's never touched a girl before, the excitement might kill him. The mix is lo-fi but just right. As the volume increases the sound bleeds through the speakers, distorts and whips up the frenzy just that little bit more. In the dark days of January music like this really helps.

7. Pierre Bastien: Eke (Rephlex)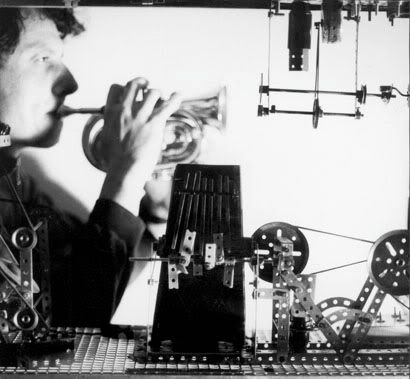 Often ideas and concepts have far more appeal in the mind than the reality of them being put into practice. Take
Pierre Bastien
, he's been making music for over twenty years with the help of a mechanical orchestra he calls the Mecanium. Surely what greets you on record could never compete with the mental image of a man sat on stage playing keyboard and trumpet surrounded and accompanied by a small army of whirring Mecano robots?
But
Pierre Bastien
's album
Pop
is at least as good any image that may have just formed in your head. A fragile hypnotic "craftwerk", for 43 minutes the inner mechanisms of
his clockwork workshop
are laid bare, as the 'ickle machines thrum plinky microbeats and Pierre overlays them with the merest hint of smoky leftbank free jazz. It's easy to see why after a career of working with some of the greats in European experimental music (
Pascal Comelade
and
Robert Wyatt
to mention but two)
Bastien
has, for his last two records, found a home on Aphex Twin's
Rephlex label
. Bastien is the handmade analogue of modern electronic music. In fact without the prior knowledge of Bastien's methods you'd be hard pressed to separate this album from one made on a laptop. Indeed
Pop
is an album that's as thought provoking as it is soothing; as enjoyable in sound as it is in concept.

8. Telefauna: Phantom Limb (Self Released)
Even now a lot of people still maintain that
Jimi Hendrix died by choking on his own vomit
. I can exclusively reveal however that it was actually for the crime of
Wah Wah pedal
abuse for which Jimi was prematurely taken from us. Yes kids,
the poor man put his Cuban-healed foot
on that most oppressive of pedals just one time too many and the next moment he was gone.
Fortunately for
Telefauna
, their career is still so young that even 'Phantom Limb''s Wah Wah-drenched criminality can excused for the foreseeable future. In fact,
it's a damn fine song
and one that announces the arrival of yet another bunch of youthful upstarts from the absurdly busy creative hatchery that is the Canadian music scene.
Quite what is being put into the water over there is anyone's guess but you'll wanna get yourself over to
the band's website
and find out all about
their debut EP
before the pancakes get cold or the maple syrup congeals. (Boom boom…seriously, someone just tell me to stop.)

9. Panda Bear: Comfy In Nautica (Uunited Acoustic)
Judging from this song, it's only a matter of time before
Panda Bear
(of the
Animal Collective
) grows a beard, gains 200 pounds, buys himself a piano in a sandpit and becomes Brian Wilson Part II – The Resurrection Reloaded.
What at first resembles a man sat in a busy abattoir spanking a bucket with a Koi Carp through a delay pedal quickly manifests itself into a pure hit of sunshine joy. Built around the simplest of vocal lines 'Comfy In Nautica' easily insinuates itself into the heady pantheon of the
Animal Collective
's best work.
Panda Bear
currently resides in Portugal and it's clear the climate and relaxed Iberian surroundings are doing him no harm whatsoever.
You can buy the CD/7 Inch from
Boomkat
,
Other Music
and various other reputable stockists.
[Panda Bear photo by Hana Macdonald]